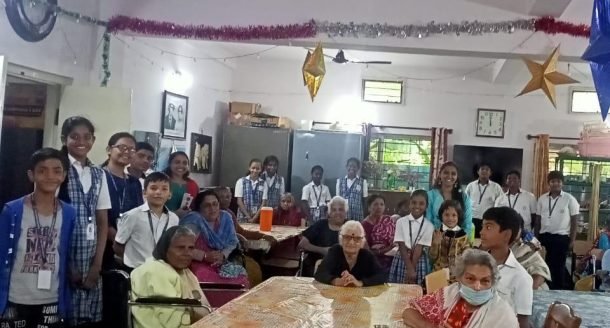 Charity begins at home. A good deed is always cherished and nourished by everyone and the impressionable little ones follow it as they are always subconsciously observing and imitating every action of ours. To instill the value of family relationships, and togetherness and to acknowledge the plight of senior citizens in old age homes.
Our school conducted an old age home visit on 20th December 2022. Students from grades 4-7 visited the Cheshire Home, Whitefield. The solacing touch of love to the Grandmas. A very blessed experience. The love of grandparents. Grandparents are gems. Unfortunately and ironically, of late old people are considered a burden. We gifted them the groceries and other essentials contributed by our parents. Our gratitude to all the parents for your contribution and for being a part of this JOY OF GIVING campaign.
There were 27 grandmas in the home. The sisters at the Cheshire Home gave us a warm welcome. It was a great opportunity for us to share the joy and peace of Christmas with them. The students rejuvenated their drooping spirits and filled
their hearts with joy and contentment with their beautiful music and dance. They also relished us with their soothing melodies and beautiful steps. We wished them a Merry Christmas and New Year by singing carols. It was really an
emotional saga at Cheshire Home. We came back with their blessings and prayers.