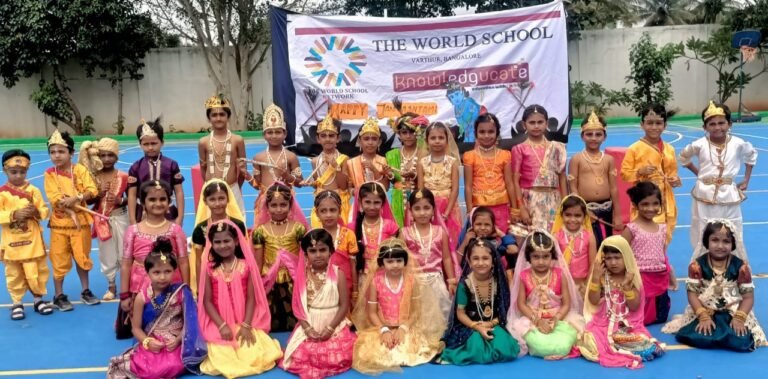 Krishna Janmashtami, marking the birthday of Lord Krishna, a powerful and well-known reincarnation of Lord Vishnu, holds a special place in our hearts. This celebration is not just about the rituals, but it's a testament to the joy, the company, and the power that the name of Lord Krishna brings – sweeter than honey and more delightful than any happiness.
At The World School, we aimed to seek the blessings of Lord Krishna, and our Janmashtami celebration was filled with joy and merriment. The atmosphere was electric, with our young ones dressed as Radha and Krishna, embodying the spirit of the occasion. Their enthusiastic dances to the rhythmic beats of Janmashtami songs filled the air with joy, festivity, and a traditional touch.
The highlight of our celebration was the fancy dress competition. Our primary students from Grades I and II, as well as the pre-primary students, showcased their creativity and grace. Dressed flamboyantly as little Radhas and Krishnas, they added vibrancy and colour to this eventful day.
We extend our heartfelt blessings to all our dear children and express our profound gratitude to the parents for their unwavering support and active participation in making this event a grand success.