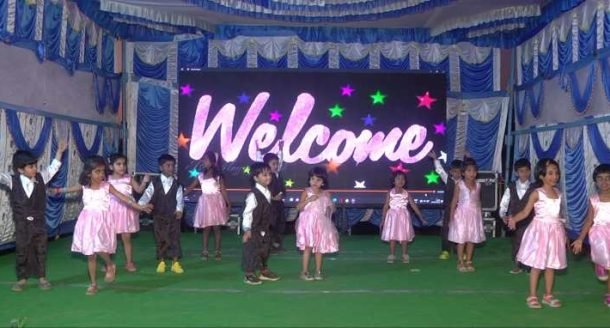 "The more you celebrate your life, the more there is in life to celebrate".
Withering the festive colours of joy, TWS celebrated the annual day and the graduation day on 4th March 2023.The entire campus enthralled in the vibrance of celebration. The celebration commenced with lamp lighting followed by invocation. The dias was blessed by the presence of our Chief Guest, Sri. G. Koushik, smt. Shivajyothy, principal Paramount Public School, smt. Sini Antony, principal TWS and sri. Syed Ahmmed Hussain, Marketing Head TWS. Our beloved principal smt. Sini Antony delivered the welcome speech. 
The graduation ceremony out the tiny tots of UKG was the cutest part. The Annual Report beautifully showcased the achievements and events of TWS during the academic year. Sri. Sudhir Kartha, the founder and chairman of Knowledgucate group of institution, addressed the gathering via audio message. The cultural programs enthralled the audience. The little ones of TWS welcomed the gathering by their cute tiny steps followed by an enticing semi classical Ganesha Vandana.
Paying tribute to the power star Dr. Puneeth Rajkumar our little ones of grade 1,gave an astounding kannada medley dance. The Halloween dance and the Goan dance added glory to the festive eve. Our chief guest Sri. Koushik inspired the children through his motivational words. The skit fortified with a theme, based on 'Mobile Mania' rendered a good message. The vibrant and the energetic punjabi medley geared up the vibes of celebration. The climax of the evening that enraptured the audience was the grand finale by our teachers. The celebration ended with the official vote of thanks by our admin, smt. Jayanthi Arnold.